QCC : Quality Control
Quality Policy
"Based on the recognition that our products is the important safety parts, we stably supply the products which are satisfied by customers all over the world."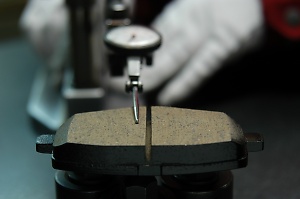 Brakes for vehicles and industrial machine are important safety parts, and it is required to have high reliability and quality.
We expand the quality requirements obtained from customers into product design and development to develop products available to the required specification from customers.

Through the mass production, in order that customers can use safely until end of product's life, we have maintained the good quality control in each stages by required investigation and evaluation.
Picture Top: Parallelism measurement of the grind surface of lining
Picture Bottom Left: Inspection of appearance and dimension
Picture Bottom Center: Measurement of hardness by hardness tester
Picture Bottom Right: Measurement of adhesion of lining by shear strength tester
Picture Top: Measurement of roughness of grind surface of lining by roughness meter